Living Room Lighting Guide
Living Room Lighting Guide
May 10, 2019
by Selina Luo
Homeowners spend a lot of time choosing the color of a sofa or paint for their living room wall, but often forget the importance of proper lighting. In a place where you watch TV, read books, play games and entertain guests, lighting plays an important role in the function and appearance of a room.
Height and Living Space
First, you must figure out how the space is used and perhaps the time of the day spent there. Again, it is of great essence to note how vast the area is and the total height of the ceiling. If you have a low ceiling, large ceiling fixtures such as chandeliers will make your living space appear smaller and cluttered. In contrast, smaller ceiling fixtures may get lost in larger rooms with tall ceilings. Therefore, ceiling height and the size of the living space are important factors to consider when choosing a ceiling light fixture.
Selected Lighting Type And Ceiling Lamp Type
Different types of ceiling lamps have different functions and create different lighting types. It's important to consider the function of the ceiling lamp you choose for your area of life, based on the ideal atmosphere you want to create.
There are three types of lighting: task, environment and key lighting. Generally speaking, ceiling lights will provide ambient light because they provide extensive lighting in an area and can be controlled by dimmers. In the lighting design of the living room, you can use the layer to supplement the environmental lighting. This can be achieved by using lamps and floor lamps to provide tasks and focus lighting.
Create Levels of Lighting
While a ceiling light is likely to form the focus of your scheme, don't overlook the rest of the space. Think vertically and split the room into 3 levels, then consider how best to light each layer. By planning like this, you avoid daunting yourself with a daunting space. Think in layers and tackle one at a time.
Plan Around a Central Feature
So now that you've chosen the ultimate in show-stopping central lighting fixtures, be sure to plan the rest of the scheme around it. You might choose more reserved lighting at lower levels to balance the space. Also, position furniture around the central feature light, make sure it takes centre stage.
Correct Bulb
Because the living room is usually a room used every day, mainly in the evening, LED light bulbs, it is much longer than the life of fluorescent lamps, will provide you with good service. LED bulbs can adapt to many different environments and produce soft white light. They are adjustable and have additional energy-saving effects.
When choosing which type of LED bulb to use, we recommend decorative bulbs. Decorative bulbs are always the most suitable for your living room; they are elegant, fashionable and will perfectly complete the appearance of the room. The filament LED bulb is becoming more and more popular, its retro appearance, filament bulb will effortlessly produce a warm light, create an attractive atmosphere, while also looking part of it.
Plug In a Floor Lamp
While light fixtures like the aforementioned chandelier require calling an electrician, floor lamps can be plugged into the outlets you already have, making them an ideal option for renters and homeowners who don't want to drill into drywall. Place a floor lamp in a corner strategically within arm's reach of your couch for convenience.
-----------------------------
Special recommend:
Against Dropping
Won't be heating
Each piece is

 

UNIQUE & 100% HANDMADE

BIG SALES FROM 19.95$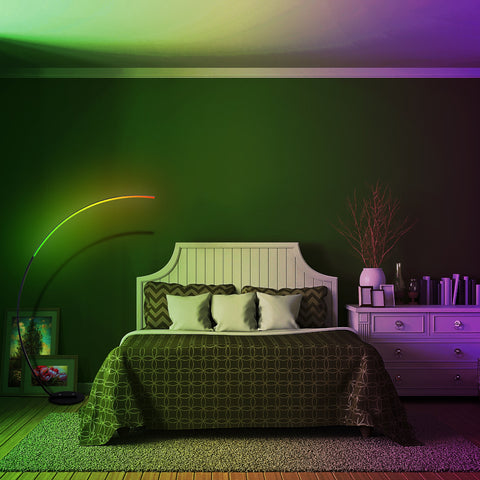 The tall, minimalist RGB Modern Curve Lamp is the ultimate mood lighting for your living room, office, or bedroom. Sleek design melds perfectly with contemporary flair to match any home decor style. It features a built-in RGB LED Strip with 16 million color options and 358 kinds of light effects. This power-saving LED bulb is good for 20 years with normal use. SHOP NOW>>
Read Also:
9 Ways To Make Your Bedroom Cozy And Warm
Leave a comment