August 09, 2021
by Selina Luo
As the nights draw in, we begin to lose the sunshine earlier and earlier. It seems that it's time to talk about the amazing impact of the right party lights.
From simple emotional lighting to carefully designed operator-to-person lighting system, the correct combination of party lights will bring you and your party guests a dramatic impact and delicate party atmosphere.
Highlight Design with Pin Lighting
Pin lighting is an excellent way to direct attention to certain parts of your event. Using a spotlight creates a dramatic effect that can transform centerpieces, decor elements and table settings into incredible pieces of art. Not only do pin lights add drama to your event lighting, but they also provide separation that is often needed between dark table linens and centerpieces allowing the centerpieces to pop and stand out. Pin lighting will make your event design a more dynamic visual experience.
Letter Lights
Party Lighting LettersLetter lights are such a fun way to illuminate your party room or outside party space. Why not mark the bar with the word in lights, or light up the garden with this super cute 'Garden' sign? Letter lights are especially fun for a circus or carnival themed party – why not try making your own? It would work out at a fraction of the cost of buying them!
Flambeaux
We use two different types of paraffin flambeaux lights;
metal – for a high end look
wicker and bamboo – which work well for certain themed parties like jungle or beach themes
Our top tip for flambeaux is to make sure you don't have too much wick sticking out of the top of the to avoid excessive smoke.
LED Candles
Great for your party table where there is no plug. Led, battery operated candles are the perfect solution and are far more child friendly!
Tea Lights
Tea lights are so simple but always incredibly effective. Add them to your party table or place around the room out of reach to create a fantastic soft and atmospheric feel to your party. Alternatively add plain tea lights to coloured tea light holders and place them around your party room.
Disco Balls
Fill the room with an abundance of beautiful colours that will dance around the room. A good way to get any party started, and a must-have for any disco or dance!
Mason Jar Lanterns
Mason jars can be used as candle holders in a variety of ways. You can layer colored sand or glass pieces in the bottom and place a tea light down inside the jar. You can fill with water and use a floating tea light, or you can even use sturdy wire around the mouth and hang them around your party area.
Washi Tape Votive Holders
Choose clear glass cylinders and several patterns of washi tape. Cut your pieces in varying lengths and place the tape in a vertical pattern over the edge of the rim of the glass. You should end with vertical stripes close together all around the rim of the glass.
Star cloth
Star cloth is used to great affect as a back drop on walls, for ceilings or to cover a whole room like in the space themed party photo above. Different colours are available as well as interactive star cloth which send waves or bubbles of colour across the cloth.
Consider your use of warm white or ice white carefully as your choice will impact the party atmosphere. Warm white is more soft and romantic while ice white is dramatic and sharp.
Gobo
A gobo is a little metal or glass disk that sits within a specialised lighting unit to give pattern or texture for movement. They work well when projected onto string curtains, down banqueting tables or across floors and walls for dramatic affect. Gobo's can be personalised with a logo or motif.
 For those who want something a bit different, the highly transparent resin create a soft, ambient effect. Its Pollock inspired style and smoke effect ensure you'll enjoy a touch of 19th century charm. Shop Now >>
 
Equipped with advanced LED technology, this unique twisting table lamp never overheats, and stays cool to the touch even after hours of use. Use the included remote control to choose between 358 lighting effects and over 16 million colors. It creates the perfect mood lighting no matter the occasion. SHOP NOW >>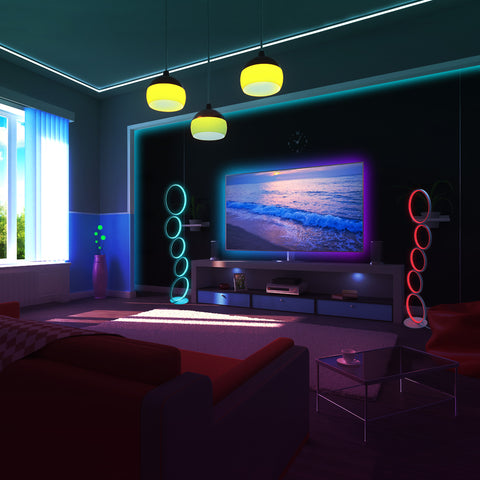 The integrated LED strips offer over 16 million color options and 358 light effects to create the perfect ambient lighting in any setting. Even when not illuminated, this creative floor lamp serves as an intriguing contemporary art piece that adds unique style to your space.
SHOP NOW >>
Leave a comment