How to Choose the Best Desk for Your Home Office
How to Choose the Best Desk for Your Home Office
February 04, 2021
by Mia Hu
The right desk for your office can make your work day go much smoother, while the wrong one can make you miserable.And how to choose the best desk for your home office?Here are some important points .When the time comes to replace your office desk, consider these important points in choosing the best work desk for your needs.
1.The desk's size
Finding a desk in the proper size for your height can improve your posture and help to prevent back and neck problems that can be caused by sitting 8 hours a day. The average height of most desks is a standard 28-30 inches from the ground to the top of the desk, which is the proper height for most people 5'10" to  6'3″ tall. If you having a difficult time finding a desk that matches your height, try an adjustable height desk.And before purchasing a desk,you need to determine the size of the desk you need.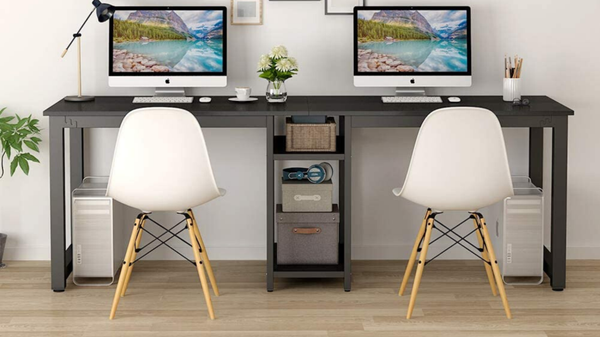 2.The desk's placement
When purchasing a desk, you'll want to be mindful of its placement and carefully measure for its full size. Take a glance around your home office , and consider how much space you have available for your new desk. Keep in mind that you want to account for three feet of space in front of the desk for your office chair to move freely. Avoid obstructing doors and frequently used areas of the room.The placement of the desk is of great importance,because it may affect your work efficiency and the comfort of the desk.
In addition,the desk should be close to the socket.It's safe to say that between laptops, phones, and tablets, most of us won't be able to work for long without a power source.
3.The needs of your job
Another vital thing is that you should clearly know the kinds of your job and the needs of your job.You should buy a desk according to the needs of your job.If you mainly work with a desktop computer, consider choosing a design with enough space for the monitor, keyboard, mouse and printer, plus a compartment or shelf for the computer tower if necessary.But if you prepare a lot of paperwork, a desk with a large surface area is useful. 
recommend:

4.The shape of desk
The shape of the desk can make it easier or harder for you to find a place for it in the room. There are three shapes of desk.They are U-shaped desks,corner desks and L-shaped desks.L-shaped desks are a suitable middle ground if you want the best of both worlds.And L-shaped desks are often a good solution and fit when your work desk needs to share space in another room like a bedroom or family room.
5.The style of your home office
A home office desk that reflects your style and makes you feel good about your work area makes for a better mood and more productivity.When your personality and decor determine the style of desk you ultimately choose, remember to think about ergonomic design and the different roles that you want your desk to play to ensure the desk you buy meets your needs. The wide selection of home office furniture available makes it possible to find something perfectly tailored to your space.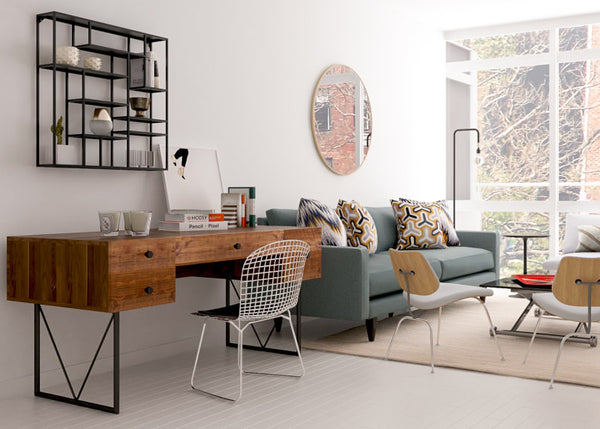 6.The storage function of desk
If your job needs a lot of desk storage space or you like desks with storage functions,you are supposed to choose those desks with storage functions.If you need lots of storage close at hand, a desk with a hutch may be a perfect solution. 
7.The material of desk
The material of desk will influence the  durability of the desk.And different materials influence the appearance of a desk and help you express your personal style.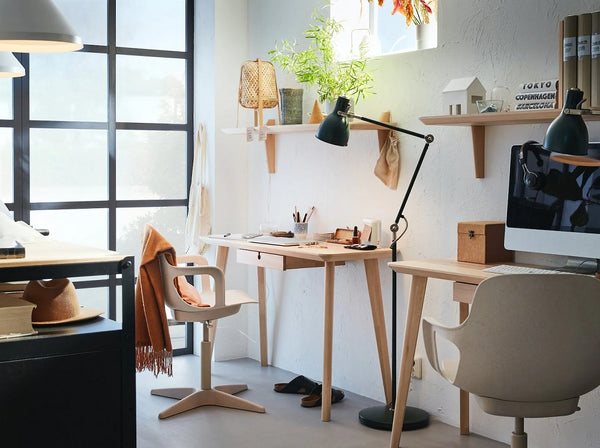 Laminate is affordable, durable, and withstands more than pure wood or veneer.Metal or steel desks are reasonably priced and good for desks subject to long-term heavy use or for high- traffic areas. Wood and veneer desks generally look more attractive than other types of desk, but they are typically more expensive and considerably more delicate; they nick more easily and are not suited for rough or heavy use.You should carefully consider which desk material you prefer or what kind of desk material is more suitable for your work.
Finally,the desk is an indispensable part of your home office.With a comfortable desk,you will improve your productivity and maintain enthusiasm for work.If you don't have a seperate home office,pull down, bureau-type, desks are another good solution because they can fold away neatly when the working day is done. Moreover,they are ideal if you work in your living room.
Leave a comment