10 fancy Moroccan Lights of 2020 - Hanging Light, Ambient Lighting, Lamps
10 fancy Moroccan Lights of 2020 - Hanging Light, Ambient Lighting, Lamps
August 11, 2020
by Vlen Feng
If you fancy adding a touch of a different country to your interior with a single element yet retain a calm, zen feeling, try one of the many Moroccan lamps to bring a touch of individuality to the look you have created - there is nothing easier than adding a table lamp to a side table, dresser, bedside table or sideboard. 
In this article, we will show you 10 fancy Moroccan Lights of 2020.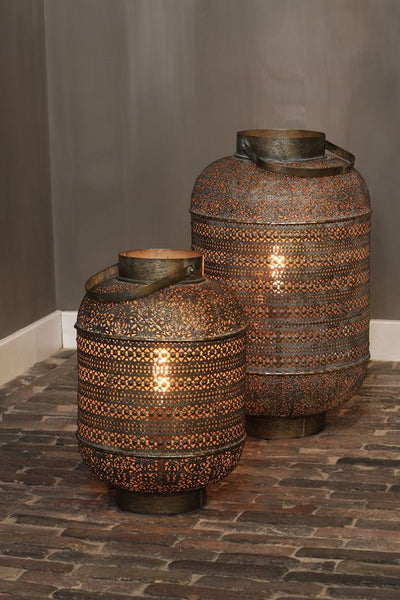 Be the envy of your neighbours as solar lamps with typical hole patterns bring a taste of the exotic to your backyard . And with potted Morrocan lamps with spherical metal bodies, the flowerbeds shine in full glory at dusk.
This gorgeous Moroccan floor lamp is made entirely by hand and is the perfect add to your boho decor. Set next to a sofa or on a console table for an elegant focal point. 
I've seen these Moroccan style hanging lanterns popping up everywhere and I have to say, I really like them. They have a Bohemian vibe that is just hard to resist. 
Moroccan lamps are especially romantic, with ornate metal carvings and colored glass. Create a luxurious atmosphere anywhere in your home 
This beautiful hanging Moroccan lantern will add an exotic oriental vibe to your home decor. 
They have a Bohemian vibe that is just hard to resist. Some of these are pendant light fixtures and some are basically candle holders but they both give you the same basic look. 
Moroccan Wall sconces offer an ambient light to any room in your home. Moroccan home décor elements amplify distinctive décor look of your house, wall sconce lights are an ideal addition to a room to emphasize a specific area. Rustic finished iron Moroccan scones make a cozy style at home.  
Leave a comment